Reality Distortion Field (RDF) and The Embassy strike content partnership
Reality Distortion Field (RDF) and The Embassy have formed an alliance to provide more genre content for television and film to audiences worldwide. The two companies have collaborated on the critically-acclaimed WARRIOR NUN and FAKES previously. Together RDF and The Embassy will offer pre-production, production and VFX services to the global features and episodic market.
"The Embassy has been an essential creative partner in building the world of WARRIOR NUN for two seasons, from concept design to building a sustainable approach to VFX that allows us to punch above our weight," said Simon Barry, Creator/Showrunner WARRIOR NUN and Co-founder of RDF. "Winston and his team are storytellers in every sense and as a Showrunner and a Director, that elevates everything we work on together. I'm confident they will be on this creative journey with RDF for a long, long time."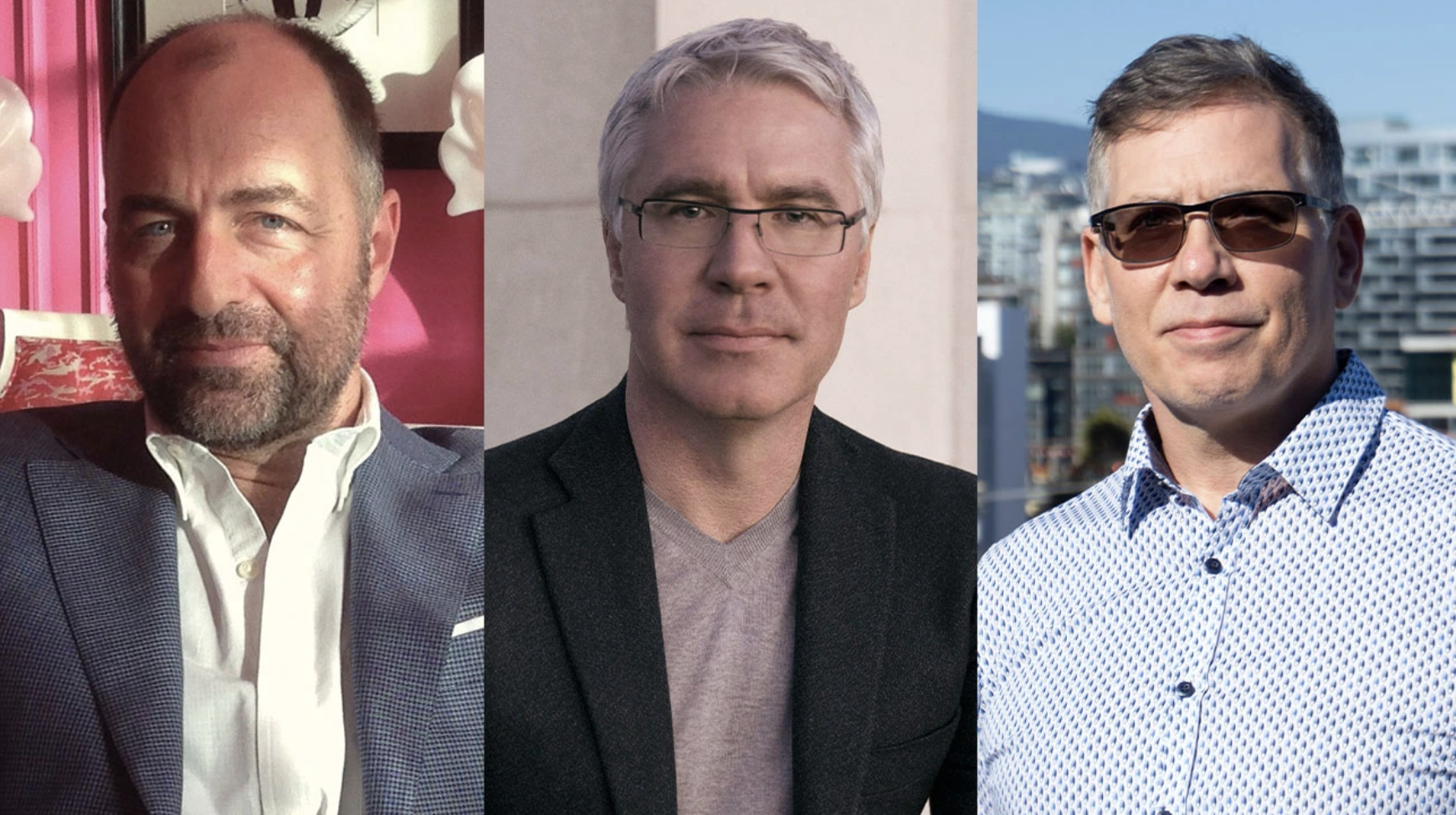 Reality Distortion Field's Simon Barry and Stephen Hegyes along with The Embassy's Winston Helgason
RDF was founded in 2016 by Showrunner/Creator Simon Barry and producer Stephen Hegyes. Production at RDF is headed by Zack Tucker Gangnes with Bhavika Mantri spearheading development. Since its launch, RDF has seen exponential growth with the releases of FAKES in partnership with CBC Gem and Netflix and the Netflix Original series WARRIOR NUN. "Finding solutions for filmmakers through our creative and technical expertise to produce high-quality original content has always been the driving force of RDF," said Stephen Hegyes, Co-Founder and President of Reality Distortion Field. "The Embassy and RDF share this same passion and we look forward to developing a unique slate of glossy productions under our new collaboration."
"Over The Embassy's 20 years in creating world-class VFX, we have worked with some of the biggest showrunners and directors in the world," said Winston Helgason, President of The Embassy. "Working with Simon Barry and RDF, over the past three years, has been our best experience ever. I am very proud of the work we have accomplished together. No one can put more value on screen per dollar than we do as a team." The new collaboration will see RDF and The Embassy finalizing and producing season 2 of WARRIOR NUN and full-length feature films over the next quarter. Season 2 of WARRIOR NUN is slated for release this fall.
About Reality Distortion Field (RDF):
Reality Distortion Field (RDF), co-founded by Simon Barry (WARRIOR NUN, CONTINUUM, VAN HELSING) and Stephen Hegyes (WARRIOR NUN, FIFTY DEAD MEN WALKING, MEDITATION PARK, co-founder Brightlight Pictures), is a Vancouver-based television and film production company focused on content that showcases intelligent, innovative, and character-driven genres. RDF develops compelling and elevated stories set in unique worlds, which are executed with the greatest consideration for high-quality production. RDF's most recent shows are Netflix's WARRIOR NUN and FAKES for Netflix & CBC Gem.

About The Embassy:
The Embassy was founded in 2002 by a team of experienced VFX artists with the original goal of focusing on high-end advertising work. Thanks to the recognition for some early award-winning commercials, directed for Nike and Citroen by then partner Neill Blomkamp, the company began working for high profile clients from all over the globe including Mercedes, VW, Asics, EA, Verizon and numerous others.
In 2006 Hollywood took notice of the facility's work and Marvel Entertainment signed The Embassy on to create the Mark 1 suit for the hugely popular film Iron Man. The Embassy followed that success with Neill Blomkamp's first feature District 9, where they created the climatic Exo-Suit end battle from the film. Both first features were Oscar nominated for VFX. The company followed these films with work on Battle LA, Cowboys & Aliens, BattleShip, Iron Man 2 & 3, Elysium, and Captain America: The Winter Soldier, Chappie and the last 2 Hunger Games films, Mockingjay 1 & 2.
Presently, The Embassy is completing the VFX for Netflix and RDF's Warrior Nun season 2, several commercials, and beginning work on the Paramount and Disney Plus series The Spiderwick Chronicles. The company continually looks forward to new challenges and is always looking to push the boundaries of VFX to create cutting edge work.